Adult Discipleship
---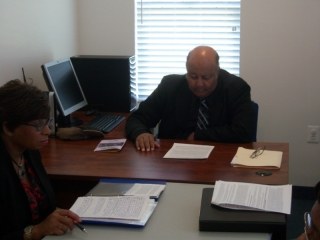 Class lessons are based on the various guides included in the Cook Ministries series. Each quarterly series alternates between books of the old and new testaments. Lessons provide for a structured approach to informal discussions of the biblical principles covered.
Join us every Sunday morning at 9:30 AM.
Lessons are developed in the following way:
All students need to be motivated. We initially want to find out what adults already know about the lesson's focus and to see what else we can learn about the topic.
All Students need to learn the facts. We present and discuss the Bible information covered in the lesson.
All students need to practice. We cover a variety of opportunities to practice the information covered in the lesson.
All students need to apply the Bible to their lives. We are encouraged to create a plan of action to apply what has been learned, and then to implement the plan(s) at the appropriate time.
All lessons focus on the never changing nature of God's love for humanity and His desire that all repent and accept the gift of life, Jesus. This focus is covered in all books of the Bible with newer understanding of God's relationship with mankind throughout the scriptures.
For more information, email Associate Pastor Wade Belcher.