Outreach Ministry
The purpose of the Outreach Ministry is to coordinate ministry opportunities on a wider scale that excourages church-wide participation.
We have partnered with several community organizations to help provide support for local schools by meeting the needs for school supplies and uniforms, rehabilation centers, homeless shelters, women centers, including providing meals for those that are unable to cook for themselves, and supporting our neighboring communities by participating with the Angel Tree Ministry that gives Christmas gifts to children with incarcerated parents. We also have a food bank to help combat hunger right here in our community.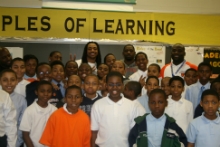 Contact Ron and Chris McGill if you are interested in serving on this ministry team.